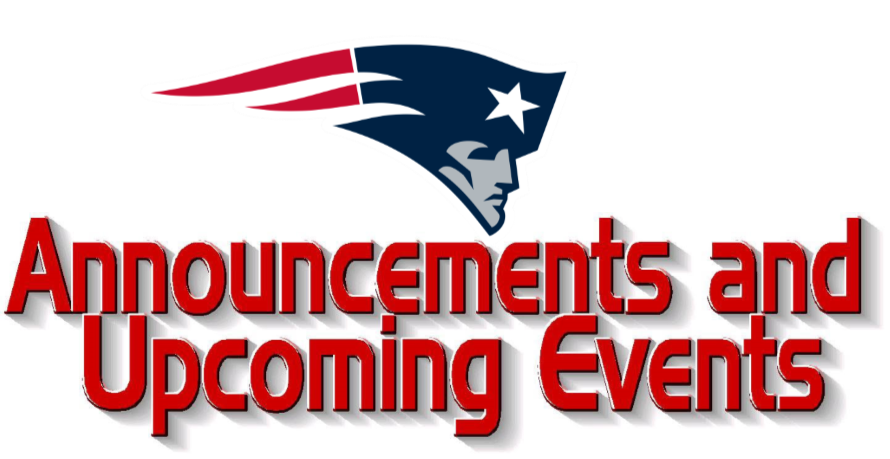 Aug 26 MS/HS Announcements
May-Port CG School District
Monday, August 26, 2019
Daily Announcements MPCG
Date: Monday, August 26, 2019
Encouraging thought of the day:
"Winners from all walks of life have their own strategies and plans, but they all have one thing in common- they TRY, keep TRYING!"
On the Lunch Menu today:
Chicken Burger*
Rice
Green Beans
Mandarin Oranges
Daily Activities:
JV/Varsity Volleyball- 3:40
C-Squad Volleyball- 6:00am
JH Volleyball- 3:45 @ PBJ
Varsity Football- 3:40
Cross Country- 6:00am
FCCLA Officers Training tonight @ 6:30pm at Mrs. Capouch's house.
JH/JV Football play at Maple Valley Enderlin tonight at 4:30pm, leave time 2:45pm
Friday Early Release Incentive:
This is for students in grades 9-12.
They will NEED PERMISSION FORMS FOR EARLY DISMISSAL (I ALREADY HAVE THE SENIORS)
I WILL BE PUTTING PERMISSION FORMS OUT IN THE FRONT LOBBY AND ON THE SCHOOL WEBSITE. WE WILL NOT BE HANDING THESE OUT. IT IS UP TO THE STUDENT TO TURN THEIRS IN.
Every Friday I will go through and mark any students who has received any of the following
Tardys
Office Referrals
Ineligibilities
Listed on the missing assignments list
If students have any one of these marked they will not be permitted to leave PPT time early on Fridays.
Daily Reminders:
Congrats to the football, volleyball, and cross country teams this weekend!
Big win for the Patriots on Friday night!
Congratulations to Tatum Mehus for winning the JV Girls 3k and Anna Strand for placing 4th. Also congrats to the JV girls team for placing 3rd at the meet in Hillsboro on Saturday!
Big Congratulations to Hanna McIntyre who signed to play volleyball at the University of Jamestown!
NWEA MAPS testing will begin TOMORROW for 6th grade and will continue throughout the week during their 2nd hour Language Arts class.
Dual Credit English 110 - Comp I courses will follow the 2019 -2020 MSU Academic Calendar for the first day of classes as well as all holidays, etc.
The first day of class this coming semester for section 1821 will be Tu8/27 at 7:15 AM. The first day of class for sections 1822 and 1823 will be W8/28 at 7:25 AM (1822) and 8:30 AM (1823).
Schedule Changes- you have until August 28 at 4:00pm to drop/add classes.
MPCG Booster Club is taking suggestions for new Patriot apparel. There is a suggestion bucket outside the office. Simply write on a piece of paper what you'd like to see and drop it in the bucket. The suggestion bucket will be there through next week.

The Booster Club is looking for design ideas for a Patriot t-shirt. Please consider submitting a design yourself or a with a group!! We will then have a committee vote on the design that will be used school wide!! Designs due August 30th to Mrs Strand's mailbox in the office!!
Attention Grades 8-12! Come enjoy a FREE movie sponsored by the May-Port CG FBLA - Spider-Man Far From Home, Thursday, August 29th at 6:30 PM at the Delchar Theater. Come see what FBLA is all about and enjoy some popcorn!
Anyone interested in helping with volleyball stats this season or video, please talk to Mrs. Hanson ASAP!!
Detention Room/Detention Duty:
Mrs. Andersson's classroom with Mrs. Andersson