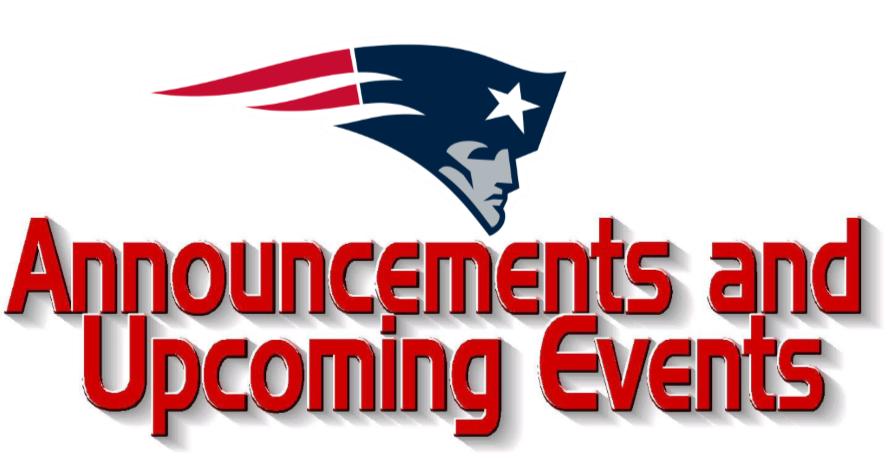 Aug 29 MS/HS Announcements
May-Port CG School District
Thursday, August 29, 2019
Daily Announcements MPCG
Date: Thursday, August 29, 2019
Encouraging thought of the day:
"If you cannot do great things, do small things in a great way!" -Napolean Hill
On the Lunch Menu today:
Hamburgers*
Baked Beans
Cheese & Tomato Slice
Applesauce
Daily Activities:
6th Grade NWEA Testing ends today.
FBLA Movie Night @ Delchar Theater starting at 6:30pm
Student Council Meeting 8:00am in the auditorium open to all students 9-12
Varsity Volleyball 3:40
C-Squad Volleyball 6:00am
JH Volleyball 3:45@ PBJ
XC 4:00
Varsity Football 4:00
JH Football 4:00
Daily Reminders:
A necklace was turned in to the office. If you are missing a necklace, please see the office!
The first River Watch will take place Wednesday, Sept 4, with students being dismissed at 1:30pm until 3:25pm. The following students will be excused: Devin Fulton, Reed Kritzberger, Oliver Paulson, Braeden Saastad, and Brady Sand. Meet Mr. Strand in the commons at 1:30.
NWEA MAPS testing will continue for 6th grade throughout the week during their 2nd hour Language Arts class.
If you have yet to hear from your online course please know that I am working on getting all of that set up for you. If you are contacted by anyone from your online course, please let Mrs. Blotsky know!
Reminder: If you have been assigned a detention you serve it THE SAME DAY at 3:30, if you don't attend the 3:30 detention you serve 7:30am the following day. If you miss a detention you will automatically serve double. Please take responsibility to attend your assigned detention hours. I will be coming around this morning to visit with students who missed detention yesterday and this morning.
Friday Early Release Incentive:
This is for students in grades 9-12
They will NEED PERMISSION FORMS FOR EARLY DISMISSAL (I ALREADY HAVE THE SENIORS WITH PRIVILEGES)
PERMISSION FORMS WILL BE AVAILABLE FROM YOUR COMMON TIME TEACHER, OUT IN THE FRONT LOBBY, AND ON THE SCHOOL WEBSITE. IT IS UP TO THE STUDENT TO TURN THEIRS IN.
Every Friday I will go through and mark any students who has received any of the following
Tardys
Office Referrals
Ineligibilities
Listed on the missing assignments list
If students have any one of these marked they will not be permitted to leave PPT time early on Fridays.
MPCG Booster Club is taking suggestions for new Patriot apparel. There is a suggestion bucket in the office. Simply write on a piece of paper what you'd like to see and drop it in the bucket. The suggestion bucket will be there through next week.
The booster club is looking for design ideas for a patriot t-shirt. Please consider submitting a design yourself or a with a group!! We will then have a committee vote on the design that will be used school wide!! Designs due August 30th to Mrs Strand's mailbox in the office!!
Anyone interested in helping with volleyball stats this season or video, please talk to Mrs. Hanson ASAP!!
Detention Room/Detention Duty:
Mrs. Andersson's classroom with Mrs. Andersson