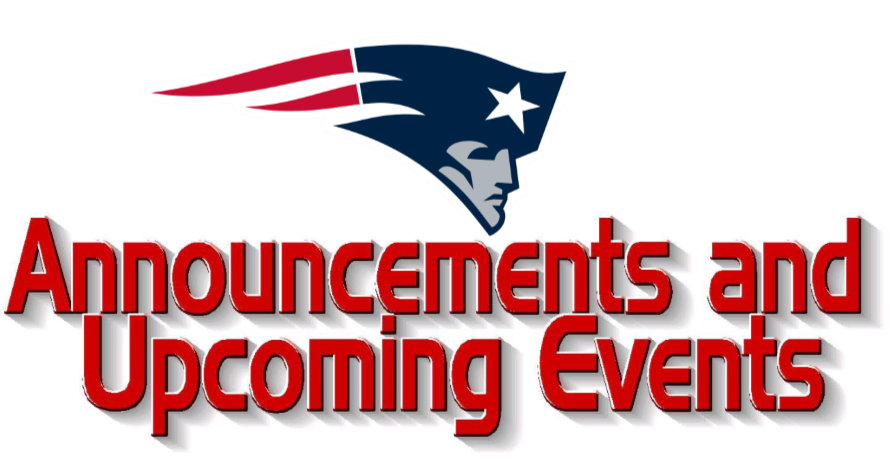 Jan 6 MS/HS Announcements
May-Port CG School District
Monday, January 06, 2020
Daily Announcements MPCG
Date: Monday, January 6, 2020
Encouraging thought of the day:
Welcome back! I missed you all! So glad you are all here today. We are GOING TO HAVE A GREAT 2020!
Please say our MISSION with me:
At May-Port CG our Mission is C.L.E.A.R and every student can and should
Expect to be CHALLENGED every day
Expect to LEARN every day
Expect to be EMPOWERED every day, and to be the best student you can be
Expect to receive ASSISTANCE when needed
Expect to be given RESPECT and to give RESPECT.
On the Lunch Menu today:
Chicken Strips
Rice
Corn
Jello & Fruit
Daily Activities:
IT'S GAME DAY! Good luck to the Girl's hockey team tonight as they take on Thief River Falls in Crookston. JV game starts at 5:30pm, with Varsity following at 7:30pm. GOOD LUCK GIRLS!
JH GBB 4pm @ Armory
GBB 6 pm @ HS
JH BBB 4 pm @ PBJ BBB 4 pm @ HS
BH 4:15 pm
Cheer 6:30 am @ PBJ
Daily Reminders:
Tomorrow morning starting at approximately 9:00 am after school has started, snow will be removed from the roof over the main high school entrance. During that time, the doors and main entrance will be closed for use. The south gym doors will be available for entry into the school. Thank you for your cooperation with this!
DROP/ADD If you need to drop/add a course for 2nd semester, the slips are in the office. These are DUE FRIDAY BY 4:00.
REMINDER: Any students in an ONLINE COURSE. YOU HAVE UNTIL JANUARY 10 to get your course completed. Any semester 1 failing grades will stand as a two week ineligibility for the 2nd semester.
If you need to makeup MAPS testing. Please do so with Mr. T in the LIBRARY during your study hall or common time. I will send an e-mail to those students and put out a list to teachers today.
Student Council meeting tomorrow morning at 8:00 am in the Library.
Mr. T's Patriot Pride Time please report to Mrs. Strand's room today.
FBLA Meeting tomorrow during Patriot Pride in the Auditorium.
Just a reminder, when Quarter 2 ends we will run eligibility for the semester. If you are failing any classes at the end of the semester, you are ineligible for the first 2 weeks of Spring semester.
SENIORS: Community Service hours are due by the end of the day TODAY!
ANY STUDENTS WHO WILL BE TAKING A SECOND SEMESTER ONLINE/DUAL CREDIT course please come see me TODAY! SENIORS TAKING COMP II AND COLLEGE MATH NEED TO SEE ME AFTER ANNOUNCEMENTS!
Detention Room/Detention Duty:
Mr. Nistler