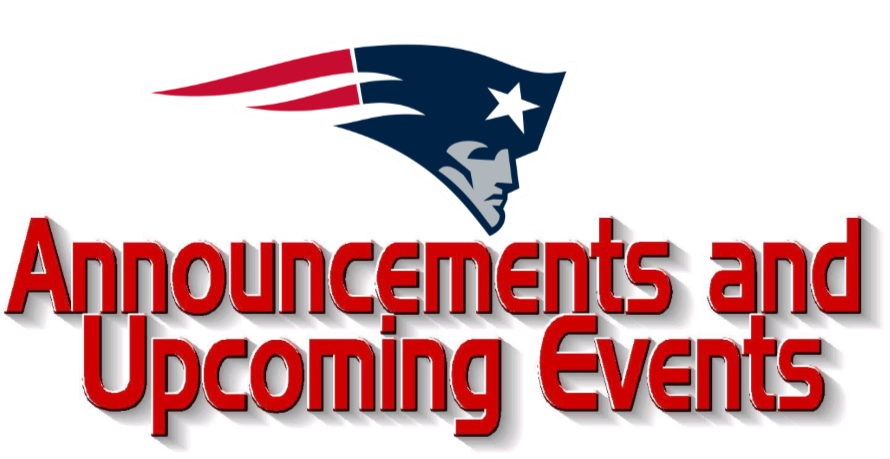 Sept 21 MS/HS Announcements
May-Port CG School District
Monday, September 21, 2020
Daily Announcements MPCG
Date: Monday, September 21st
Encouraging thought of the day:
"Fight for the things that you care about, but do it in a way that will lead others to join you."
-Ruth Bade Ginsburg
Our Mission at MPCG is C.L.E.A.R!
Every student can and should
Expect to be CHALLENGED every day
Expect to LEARN every day
Expect to be EMPOWERED every day, and to be the best student you can be
Expect to receive ASSISTANCE when needed
Expect to be given RESPECT and to give RESPECT in return.
Lunch Menu:
Chicken Alfredo over Rotini
Carrots and Peas
Cookie Bar
Juice
Daily Activities: It's game day!!!
Jr High FB @ Thompson 4:30
JV FB @ Thompson leave 4:10
-Both teams will leave together, dismiss 2:55 leave 3:05

Jr High VB @ Thompson 5:30/6:30 leave 4:00

Elementary GBB v. HCV 4:30/5:30 @ PBJ
GOOD LUCK PATRIOTS!!!
Varsity FB practice 3:40
C/JV/Varsity VB practice 4:00
XC- Practice 3:45
Cheer- practice 4:00
Congratulations to the Varsity Football team on a GREAT win Friday night!
Cross Country results are in from last week's meet in Cavalier. Congrats to the Girls Varsity team for taking 4th overall, and to Tatum Mehus and Anna Strand for placing in the Top 20. A big congratulations also to the Boys Varsity team for taking 2nd place overall! And to Tanner Lundwall, Kade Palmer, Shawn Klabo, and Carter Garrett for placing in the Top 20. Way to go, Patriots!
Daily Reminders:
Homeroom this morning- Use this time to check with your homeroom teacher about missing assignments, getting work done, organizing your day etc.
Our first FFA meeting of the school year is this Wednesday Sept. 23rd from 8:30-9:00am in the Auditorium! Grades 7-12, new members welcome! FFA officer applications (grades 9-12) are also due Wednesday Sept. 23rd by 4:00pm to Mrs. Kieffer! Please see Mrs. Kieffer for an application if interested!
STUDENTS YOU ARE NOT DISMISSED UNTIL YOUR GRADE LEVEL IS CALLED FOR DISMISSAL. WE DO THIS TO KEEP STUDENTS AT A DISTANCE AND KEEP EVERYONE SAFE. PLEASE FOLLOW THE DIRECTIONS AND TEACHERS PLEASE DO NOT LET YOUR STUDENTS LEAVE UNTIL THEIR GRADE LEVEL IS CALLED.
Detention is in the Auditorium every day after school. Mrs. Connick is the detention monitor this week.
REMEMBER IF YOU MOVE, YOU MASK! Please remember to take your masks home daily and return with a clean one each day!