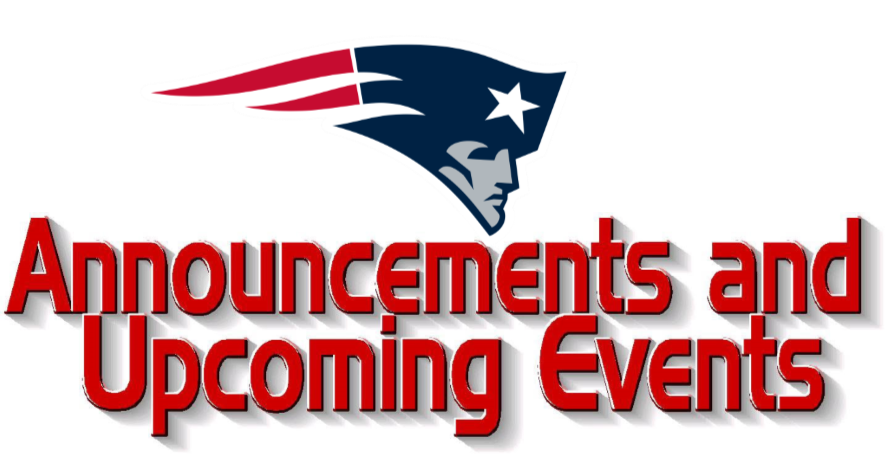 Sept 28 MS/HS Announcements
May-Port CG School District
Monday, September 28, 2020
Daily Announcements MPCG
Date: Monday, September 28th
Encouraging thought of the day:
Monday, Funday! We are going to have a GREAT WEEK!
Our Mission at MPCG is C.L.E.A.R!
Every student can and should
Expect to be CHALLENGED every day
Expect to LEARN every day
Expect to be EMPOWERED every day, and to be the best student you can be
Expect to receive ASSISTANCE when needed
Expect to be given RESPECT and to give RESPECT in return.
Lunch Menu:
Pizza
Cucumbers/Pea pods/Tomatoes
Peaches
Daily Activities:
Jr High FB practice 3:45
V FB practice 3:45
Jr High VB practice 4:00 @ PBJ
C/JV/V VB practice 4:00 @ HS
XC- practice 3:45
Cheer- practice 4:00
EGBB @ Northwood 4:30/5:30
Daily Reminders:
The JV and Jr High Football games scheduled for today have been cancelled.
The JV and Varsity Volleyball games scheduled for tomorrow, September 29th, in Larimore have been postponed to Saturday, October 17th, with JV starting at 3:00pm and Varsity to follow. The 7th, 8th, and C-Squad games will continue as scheduled tomorrow.
School photos are ready to be ordered from Jacobson's Studios! You can use your QR Code provided on the sheet given to the students the day of photos to access the photos, or use web address at jacobsonstudio.gotphoto.com. A Personal Access Code will be needed and was also provided on the sheet sent home. Contact Toni with any questions at 788-2611.
The school photo retakes and distance learning photos date is set for Friday Oct 2: from 8-10 AM and 3:30 to 5:30 PM. An appointment time is needed, please call Toni at 788-2611.
Middle school- Reminder; late or missing work equals a detention. Teachers are tracking this information. You will serve after school detention for not having this done. Please keep on top of your work.
There is an FBLA meeting this morning! This meeting is for anyone in grades 8-12, and you don't have to be a paid member to come to the meeting. It will take place in the auditorium from 8:30-9:00. If you have any questions, see Ava.
Play Auditions will be held tonight and this upcoming Wednesday in the evening at 7 pm in the High School auditorium. Auditions will consist of an improv scene, so nothing needs to be prepared. Any student in grades 7-12 interested in performing in the One Act play must attend or contact Mrs. Kitchen.
Orders for letterman jackets will be due by October 15th. Come to the office if you have any questions!
STUDENTS YOU ARE NOT DISMISSED UNTIL YOUR GRADE LEVEL IS CALLED FOR DISMISSAL. WE DO THIS TO KEEP STUDENTS AT A DISTANCE AND KEEP EVERYONE SAFE. PLEASE FOLLOW THE DIRECTIONS AND TEACHERS PLEASE DO NOT LET YOUR STUDENTS LEAVE UNTIL THEIR GRADE LEVEL IS CALLED.
Detention is in the Auditorium every day after school. Mrs. Gapp is the detention monitor this week.
REMEMBER IF YOU MOVE, YOU MASK! Please remember to take your masks home daily and return with a clean one each day!